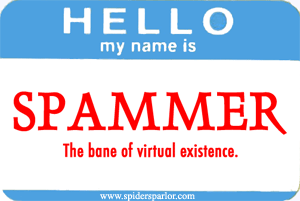 Disclaimer: Unfortunately, it cannot be proven (unless you're Google) whether United Healthcare, an agency working for them or someone else has done this, but it's definitely helping UHC to rank UNFAIRLY in Search Engines! Look at my findings below and decide for yourself. I am NOT claiming that UHC did this!
If you are not familiar with how Google works, it's a system which evaluates how many websites link to another site and calculates the target website's rank based on that. So, for example, if United Healthcare wanted to rank well in Google for, let's say "health insurance", they would need other websites to link to them using this phrase as anchor text.
Generally, people link to reputable company websites because they like their services. United Healthcare is NOT a reputable company so what do you think they might need to do to create "high quality" links back to their website?
Buying Links From SPAM Blogs
A very popular tactic utilized by lowlife spammers – create spam blogs or rent them from other spammers in an effort to create more links. Example: http://wearetheanswer.org/ is a spam blog which looks like crap but has very high link popularity – Google might consider it a high quality link! What does UHC have to do with it? Here's a screenshot from the site:


SPAMMING High Profile Blogs With Useless Comments
This one is PRICELESS! There are countless instances of SPAM comments linking to UHC dating as far back as several years. Whoever is doing this has been working the system big time! Let's take a look at some of the gems!
http://www.usingmac.com/2008/1/7/mac-special-characters – Double trouble!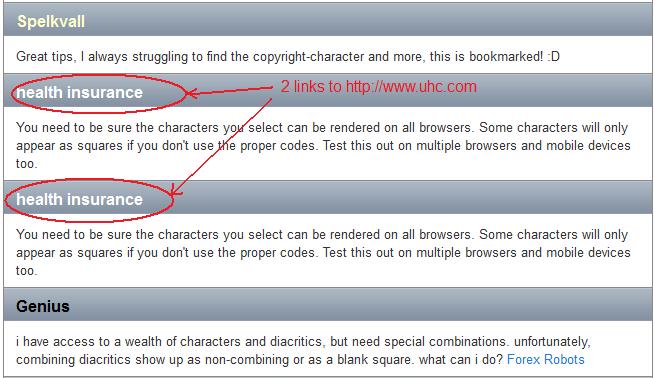 http://threatpost.com/en_us/blogs/spyware-found-3-major-mac-download-sites-060110 – "Larz the Real Guy" strikes again!


More samples – just search for the phrase "health insurance" and you'll find the links (from HUNDREDS MORE!)
– http://www.thebeehive.org/jobs/job-articles/dealing-layoff
– http://www.maximumpc.com/article/features/protect_your_pc_from_guys_like_this?page=0,4
– http://becomehealthynow.com/vblite/showthread.php?t=977
Could You Report United Healthcare to Google?
If you think that United Healthcare is crossing the line with these Immoral(illegal?) Marketing Practices you are free to report them to GOOGLE! If enough people send reports, United Healthcare might stop ranking so highly when employers are looking for health insurance options in Google!